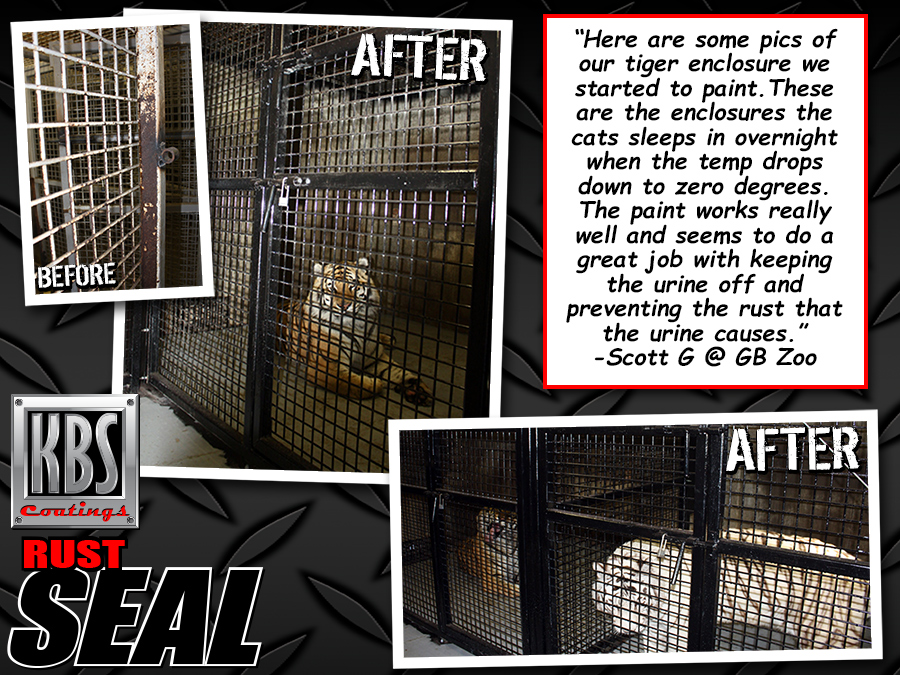 "Here are some pics of our tiger enclosure we started to paint.These are the enclosures the cats sleeps in overnight when the temp drops down to zero degrees. The paint works really well and seems to do a great job with keeping the urine off and preventing the rust that the urine causes." -Scott G @ GB Zoo
Unlike other corrosion treatments, RustSeal is a coating that lasts. Water and air are locked out, therefore oxidation, the precursor to rust, cannot take hold. RustSeal is incredible resistant to chemicals including human urine and animal urine.
Tagged Products
**NEW & IMPROVED** KBS Klean is a concentrated, water-based, biodegradable formula that is an excellent alternative to flammable solvents and hazardous chemicals. KBS Klean prepares your paint job with a clean surface. Try some today and see why customers say ...it's not really clean until it's KBS Klean'd!
109 Review(s)
RustBlast is a powerful rust remover, zinc phosphate pre-primer, and metal etch. RustBlast effectively dissolves rust, corrosion, metal oxides, and tarnishing from most metal surfaces. Ideal for removing rust from chrome surfaces.
105 Review(s)
RustSeal is a superior single part, ready-to-use, rust preventive coating. RustSeal is impervious to road salts and most every chemical. RustSeal flows out to a beautiful, rock-hard, tough ceramic-like coating that is tough to chip or scratch, and will not crack or peel.
410 Review(s)