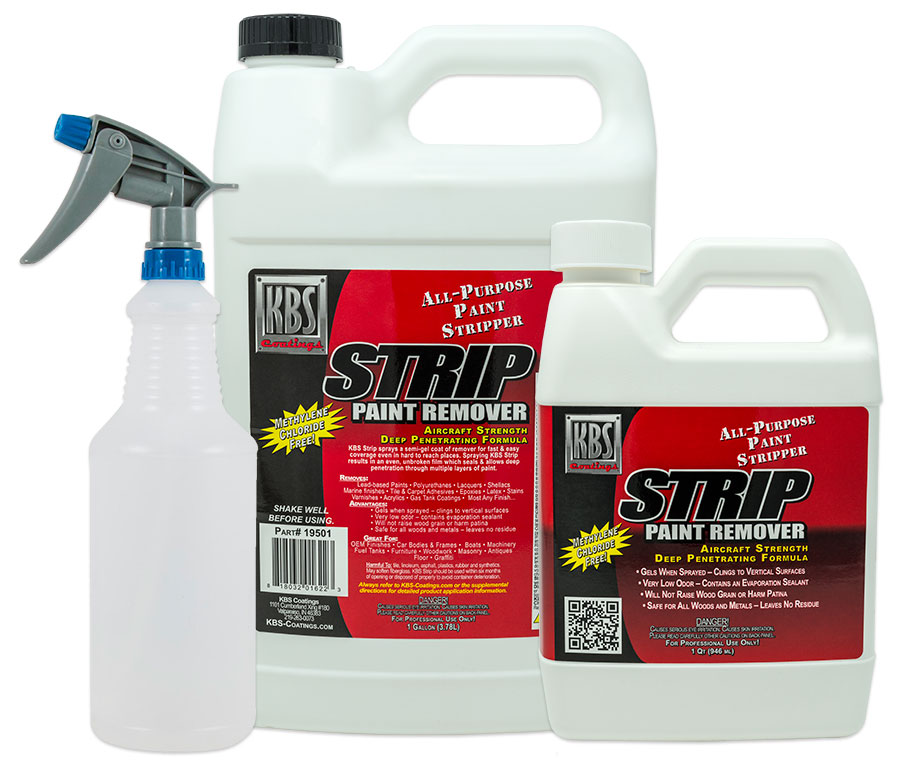 KBS Coatings, the leader in automotive restoration and rust preventative coatings introduces an ALL NEW environmentally friendly powerful paint stripper called KBS Strip.
KBS Strip is an extreme duty, high concentrate paint stripper for designed to remove the toughest of finishes. KBS Strip is advanced paint stripping technology that does not contain the harmful chemical methylene chloride. Strip sprays on as a gel to produce an unbroken film that clings to vertical surfaces. KBS Strip features an evaporation sealant which drastically lowers the amount of odor and dramatically increases its stripping power. You can even use KBS Strip on varnishes, lacquers and stains and KBS Strip will not harm or raise the wood grain. Additionally, KBS Strip can be easily washed off with water without leaving a residue.
The coverage of KBS Strip depends on the age of the coats and the number of coats to be removed. Typically, one gallon of KBS Strip is sufficient for 70-150 square feet and one quart of KBS Strip is sufficient for 20-35 square feet. KBS Strip is also absolutely ideal for stripping the inside of gas tanks. KBS Strip is very versatile removing lead-based paints, polyurethanes, lacquers, shellacs, marine finishes, tile and carpet adhesives, epoxies, latex, stains, varnishes, acrylics, gas tank coatings, gas tank liners and most any other finish.