Motorcycle Engine Paint Makes Your Bike Look Great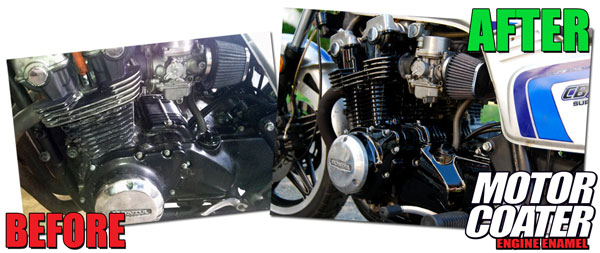 In these times of social distancing you may be looking for projects to do around the house. Now is a good time to restore the finish of your motorcycle's engine or perhaps even restyle it. The KBS Motor Coater Kit provides what you need to prepare and paint your motorcycle's engine with professional results.
The KBS Motor Coater Kit is designed to be user-friendly, reduce labor time and provide a great looking and long-lasting finish. This all-inclusive kit contains KBS Klean to clean and degrease the frame, RustBlast to remove surface rust and etch the surface for excellent paint adhesion and Motor Coater, which is an engine enamel with deep, rich pigmented colors for excellent coverage. KBS #1 Thinner is also included for thinning the motorcycle engine paint when applied with a spray gun and for clean up.
Motor Coater is a high performance and high gloss paint that can withstand temperatures of up to 450°F. It matches OEM standards, will not blister, flake, crack or peel and is impervious to oil, transmission fluid and gas. Motor Coater is easy to apply, offers superb coverage and is self-leveling meaning the brush marks flow out. Motor Coater is currently available in at least 39 colors.
To ensure a durable and long-lasting Motor Coater finish, the engine surface must be properly prepared. Dirt, grease, flaking rust and other contaminants, as well as loose paint must be removed before painting. Proper cleaning makes the difference between poor results and results that can last generations. Motor Coater can be directly applied to sand blasted surfaces and requires no other prep beyond blowing off the loose dust with clean air. Plastic media, bead or soda-blasted surfaces do not provide the adequate amount of abrasion needed for direct Motor Coater application and will require use of RustBlast. For all other applications, simply proceed as described below. Remember to always allow products and surfaces to adjust to room temperature before prepping and painting.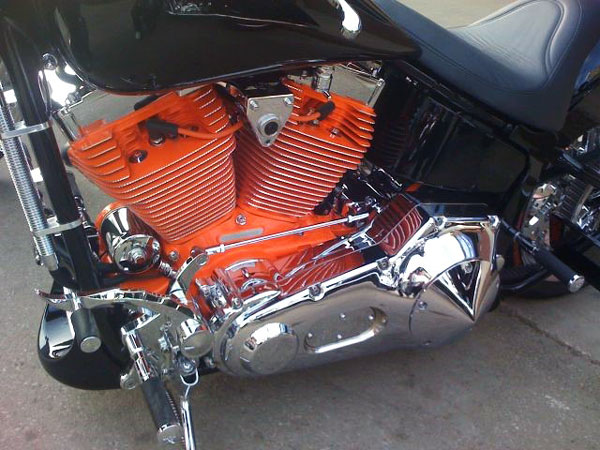 Start by using a wire wheel or brush or 320 grit sandpaper to remove any flaking rust or loose paint. Next, clean with KBS Klean concentrate mixed one to one with hot water. The warmer the water, the more effective and powerful the cleaning action of KBS Klean will be. For general purpose cleaning, apply liberally and scrub surface for 5-10 minutes. For heavy-duty cleaning, you can extend soaking time up to 24 hours or more as necessary. Use a bristle brush or scouring pad to speed up the cleaning of heavily soiled surfaces. Re-treat surface as necessary until clean. Rinse clear and let dry.
Liberally apply RustBlast full-strength to a clean and dry surface using a spray bottle or brush. Re-apply RustBlast often to continually keep the surface wet for a minimum of 30 minutes. Moderately or heavily rusted or corroded surfaces will require more soak time typically about an hour or so. Do not allow RustBlast to dry on the surface before rinsing. After treatment, rinse thoroughly with water and then allow surface to dry or dry the surface completely before coating. Items treated with RustBlast can remain uncoated for up to 7 days before sealing depending on environmental conditions.
The Motor Coater Kit provides Motor Coater in a pint can. The motorcycle engine paint can be applied with a brush, roller or spray gun. Motor Coater has good self-leveling characteristics so brush marks will flow out nicely. As with all other paints, it is always best to spray any of the metallic colors for the best possible cosmetic finish.
Before using, stir the Motor Coater for several minutes to obtain the best uniform sheen and finish. Stir Motor Coater thoroughly for several minutes to obtain even color mixture. Do not shake as it can form air bubbles. Stir often during the course of painting. Thinning may be required for some spray applications. Reduce 5%-10% if needed using the included KBS #1 Thinner only.
In most cases, a single full coat of Motor Coater will cover completely with full color depth. If desired, a second coat may be applied within 30 minutes or after 7 days. As with most paints, two thin coats are better than one heavy coat. Average cure time to touch is 2-4 hours.
While you do not need to clear coat over Motor Coater you can apply DiamondFinish Clear or KBS MAXX Clear over Motor Coater for additional durability and gloss but be sure to wait seven days before apply the clear coat.
The KBS Motor Coater Kit is just what you need for improving the looks and protecting your motorcycle engine. Our motorcycle engine paint will not only increase pride of ownership, but it can increase resale value as well!
For more information on the KBS Motor Coater Kit click HERE.