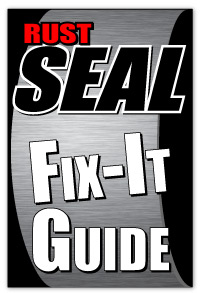 This guide helps you quickly identify the causes of and the recommended solutions for the most common issues that could occur for RustSeal.
AIR/MICRO BUBBLES
Small bubbles in or on the paint film.
CAUSE:
Liquid solvent (thinners/reducers) becomes "trapped" in the paint film when the surface layer skins over too quickly, preventing their evaporation into the atmosphere. Solvents that vaporize within the paint film leave bubbles, pinholes or craters as they push through and "pop" the surface. Solvents can be trapped due to:
Thinner/reducer evaporating too fast for spraying conditions.
Inadequate flash time between coats.
Excessive film thickness or "piling on" of heavy/wet coats.
Too hot and/or too humid conditions.
Too much air movement causing coating film surface to "skin over" before solvents evaporate.
Excessive purge/flash time before force drying.
REPAIR:
Sand smooth with 320 or finer grit sand paper, and recoat.
PREVENTION:
Apply THIN COVERING coats.
Avoid allowing coating to puddle/pool in low areas.
Allow each coat to dry to the touch (no longer sticky or tacky) before applying subsequent coats.
Use correct solvent for proper evaporation rate.
Avoid too hot/humid atmospheric conditions (ideal = 55°-82°F/13°-28°C)
Maintain correct spray gun speed & distance.
Use the recommended air pressure.
Use the correct air cap/nozzle/needle recommended.
CHALKING (Fading, Oxidation, Weathering)
A chalky appearance on the surface of the paint film.
CAUSE:
Pigment is no longer held and protected by resin, resulting in a powder-like surface and lack of gloss due to:
Natural weathering of the paint film.
Improper application of paint material.
REPAIR:
Lightly sand and abrade "weathered" paint film, clean, and apply refinish.
PREVENTION:
After RustSeal has cured, apply opaque UV stable topcoat such as BlackTop.
BLISTERING (Bubbles, Bumps)
Swelled area(s) appearing as pimples or bubbles in the coating film.
CAUSE:
A. Moisture trapped beneath the paint film due to:
Improper dry time after cleaning.
Applying in extreme high heat/humidity conditions.
B. Using a poor grade and/or too fast evaporating thinner/reducer.
C. Trapped solvents from applying wet heavy coats with insufficient flash time between coats.
D. Improper dry time of undercoats before topcoating.
E. Painting over grease or oil.
REPAIR:
Remove affected area and refinish.
Extreme cases must be stripped to bare substrate before refinishing.
PREVENTION:
After cleaning and prepping surface following KBS Klean & RustBlast directions, allow sufficient time for moisture to evaporate. If spraying, drain moisture from compressor and air lines regularly and use an inline filter to trap moisture and contaminants. Allow additional dry time between coats when spraying or brushing in humid conditions, or apply at times of low humidity when possible.
Select proper thinner/reducer for conditions.
Apply materials according to product recommendations, allowing sufficient flash time between coats.
Allow undercoats to thoroughly dry/cure before topcoating.
Clean and prep substrate using recommended products and procedures.
FISHEYES (Silicone Contamination, Cratering)
Small circular, crater-like openings that appear during or shortly after application.
CAUSE:
Spraying over surfaces contaminated with oil, wax, silicone, grease, etc.
Use of thinner/reducer in place of a water-based cleaner.
Spraying over previously repaired areas containing "fisheye eliminator" additive.
REPAIR:
Remove wet paint film with solvent, clean and refinish.
If the paint has dried, sand to a smooth finish below the fisheye cratering and refinish.
PREVENTION:
Thoroughly clean the surface to be painted with KBS Klean and hot water, followed by a thorough water rinse. Wipe dry with clean rags.
Install an air filtering system that removes and prevents oil and moisture contamination.
Maintain air supply by draining, cleaning and changing filter(s) on a routine basis.
RUNS/SAGS (Hangers, Curtains, Signatures)
Coatings that fail to adhere uniformly, causing beads, droplets, or slippage of the total film.
CAUSE:
A. Over reduction and/or too slow evaporating thinner/reducer.
B. Applying paint materials without proper flash time between coats.
C. Applying excessive wet coats due to:
Brushing
Applying too heavy coats.
Spraying
Holding the gun too close to the surface.
Slow gun speed.
Double coating.
Air pressure too low.
Improper spray gun set-up or an unbalanced spray pattern.
D. Material and/or substrate temperature too cold.
REPAIR:
Remove the wet paint film with solvent, clean and refinish.
Or, after finish is completely dry. remove excess paint by block sanding with 300 or finer grit sandpaper and refinish.
PREVENTION:
Always apply thin covering coats.
Allow each coat to dry to the touch (no longer sticky or tacky) before applying subsequent coats.
Thin according to product directions. Select recommended solvent for spray conditions based on temperature, humidity, air movement, size of repair.
Spray light wet coats and allow sufficient flash time between coats.
Adjust the spray gun for the best atomization and balanced spray pattern before paint application. Hold the spray gun perpendicular and parallel to the panel. Adjust speed of pass, pattern overlap, and distance from the panel until the desired results are achieved.
Set air pressure at the gun according to product recommendations.
Use recommended spray gun, including fluid tip and air cap combination.
Allow the paint material and substrate to reach room temperature before application.