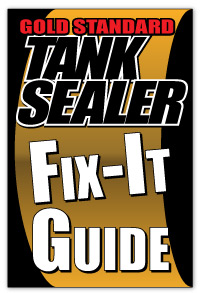 This guide helps you quickly identify the causes of and the recommended solutions for the most common issues that could occur for Gold Standard Tank Sealer.
BUBBLING
Small bubbles in or on the paint film.
CAUSE:
Liquid solvent (thinners/reducers) becomes "trapped" in the paint film when the surface layer skins over too quickly, preventing their evaporation into the atmosphere. Solvents that vaporize within the paint film leave bubbles, pinholes or craters as they push through and "pop" the surface. Solvents can be trapped due to:
Excessive film thickness from puddling in tank.
Too hot and/or too humid atmospheric conditions.
Too hot/warm tank conditions.
Moisture remaining in tank.
REPAIR:
PREVENTION:
Allow tank to reach room temperature before applying sealer.
Do not attempt to apply sealer in direct sunlight, as tank surface and inside air will be too warm.
Drain out excess sealer.
Avoid allowing coating to puddle/pool inside tank.
Avoid too hot/humid atmospheric conditions (ideal = 55°-82°F/13°-28°C)
Do not allow tank to "cure or dry" in direct sunlight.
Keep tank away from heat while curing.
PEELING (Flaking, Delamination)
A loss of adhesion or separation of the paint film from the tank surface.
CAUSE:
Improper preparation of the substrate (cleaning & etching).
Inadequate drying of tank interior prior to applying sealer.
Too hot/humid atmospheric and/or tank surface conditions during application or curing.
REPAIR:
PREVENTION:
Thoroughly clean and prepare all tank surfaces according to product recommendations.
Allow tank interior to dry completely before applying sealer.
Allow tank to reach normal room temperature before applying sealer.
Allow tank to dry slowly at room temperature.
Do not attempt to "speed up" the cure time by placing tank in direct sun or near heat source.
STILL LEAKING
Leaks still leaking, seaping or weeping.
CAUSE:
Original holes larger than pinhole size.
Cleaning & prepping steps made holes larger.
Sealer application missed covering the area of the holes.
REPAIR:
Strip out Tank Sealer (Using KBS Strip).
Repair holes from outside of tank using KBS NuMetal epoxy putty, allow to cure, prep and seal tank following product recommendations.
PREVENTION:
Properly evaluate size of pinholes and/or hole prior to beginning and again after cleaning and prepping (during final water rinse process).
Make necessary procedural adjustments using KBS BackBone mesh along with tank sealer, KBS NuMetal epoxy putty, or simple duct tape on the outside of the tank to hold/plug these holes prior to applying tank sealer. See KBS Tank Sealer Kit instructions.
TRANSPARENT SEALER FINISH
Clear to semi-transparent coating finish.
CAUSE:
Inadequate stirring of tank sealer before application
REPAIR:
None necessary. Silver tank sealer pigment is basically for appearance only.
PREVENTION:
Use lifting motion while stirring to allow proper dispersion of heavier silver metallic pigments. Stirring in a circular motion only does not allow the settled pigment and resins to mix completely.