Printer Friendly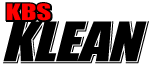 Order KBS Klean
KBS KLEAN SHOULD ALWAYS BE DILUTED WITH WATER.
NOTE: The warmer the water used, the more effective and powerful the cleaning action of KBS Klean. Effective dilution rates will vary according to the type and degree of contaminants as well as surface materials. KBS Klean may be used in power washing equipment.
RECOMMENDED WATER DILUTION RATIOS:
Heavily Soiled Surfaces
(Diesel engines, fuel tanks)
1 Part Hot Water &
1 Part KBS Klean
Moderately Soiled Surfaces
(Pre-paint cleaning)
5 Parts Hot Water &
1 Part KBS Klean
Lightly Soiled Surfaces
(Truck road film)
10 Parts Hot Water &
1 Part KBS Klean
Non-Ferrous Metals
(Aluminum, Copper,
Brass, etc.)
25 Parts Hot Water &
1 Part KBS Klean
PROTECTIVE RUBBER GLOVES AND SAFETY GLASSES SHOULD BE WORN AT ALL TIMES WHEN USING THIS PRODUCT.
KBS KLEAN DIRECTIONS:
For general purpose cleaning, apply liberally and wash surface for 5-10 minutes.
For heavy-duty cleaning, extended soaking times up to 24 hours or more may be necessary.
Use a bristle brush or scouring pad to expedite the cleaning of heavily soiled surfaces. Retreat surface as necessary until clean.
DO NOT ALLOW KBS KLEAN TO DRY before rinsing. Rinse thoroughly with water after cleaning and let dry. NOTE: Metal surfaces cleaned with KBS Klean should be treated with RustBlast before painting to ensure proper adhesion.
NOTE: For non-ferrous metals (aluminum, copper, brass, etc.), clean with KBS Klean at a dilution rate of 25 parts hot water to 1 part KBS Klean (4% strength) with the use of a very soft non-abrasive cleaning pad. Rinse the KBS Klean solution immediately making sure you do not let it sit on the surface and dry in a way that minimizes any water stains