When I was in picking up my latest batch of paint for some more restoration work and talking cars and paint, I picked up some RustSeal so I could show other people how much fun I am having!
I found this 32 Ford V8 Flat head cylinder head in my parts bin and thought it would be an ideal part to demonstrate how the KBS system works . As you can see it is looking pretty ordinary with a bit of everything on it from rust to dirt, old loose paint, oil and dried up grease.
I removed the old broken spark plugs. I mixed up some KBS Klean about 1 part KBS Klean to 3 parts water which is a good strong mix and should clean all but the heaviest contamination (in which case you would use a ratio of 1:1).
I sprayed on a good amount of KBS Klean and let it soak for about 5 mins then I gave it a good scrub and sprayed on a bit more again a left it for about 5 minutes.
Because it was a separate part I just hit it with a hose but if it was in an area that was difficult to assess a wet or damp cloth would work just a well. But of course the hose is quick and easy.
Between the KBS Klean and some scrubbing everything came off even the old broken down paint. The only thing still on there is the rust.
Now I got out the RustBlast and gave it a good soaking. I kept it wet for about 40 minutes or so also giving the loose rust some encouragement with a clean wire brush. As you can see we did not get all the rust off in 40 minutes but we got most of it. We could have kept going and gotten the remaining rust but the RustSeal is more than capable of handling these remaining areas of treated rust. So we rinsed it of with some water and let it dry.
Now for the fun part. Give the paint a real good stir … 2-3 minutes should be fine for most colors (note: metallic pigments like silver mayneed a little longer). Do not paint out of the can if you want your paint to last! I poured out what I need using a spout then closed it up again. The paint is normally good for 6 months once you open it if you follow this method.
I brushed on two thin coats about 3 hours between coats. The first coat penetrates the surface and really locks in to the porosity. The second coat seals it all up then it cures. This RustSeal cures hard every time I use it. It always blows me always as to how hard and tough it sets.
You can see that with the minimum effort that I used, I got a solid, durable permanent coating on a surface that you would normally have assumed "had to be sandblasted" or sanded for hours! Try some today. You will be as impressed as I am!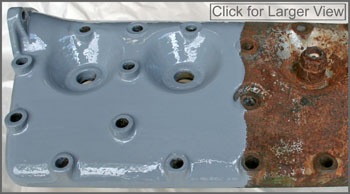 Products Used